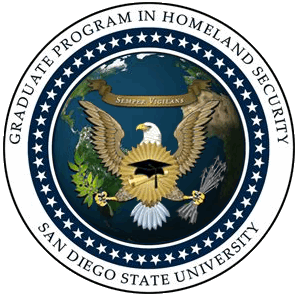 Homeland Security Program
VizCenter Room CSL-120
5500 Campanile Drive
San Diego, CA 92182-1012

+1 619-594-5960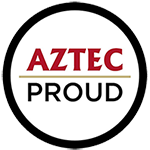 GIVE to HSEC
Welcome to the Graduate Program in Homeland Security.
We exist to develop professionals who help ease human suffering, respond to emergencies, and increase global security. That is a big, broad goal, and our staff and alumni work together to humbly accomplish victories toward that end on a daily basis. Look HERE to see everywhere our 1000+ alumni are working and serving.

This HSEC Program offers a rich, interdisciplinary graduate study curriculum, leading to the Master of Science degree in Homeland Security. Our program was started by homeland security visionary Dr. Eric Frost as a response to the events of 9/11/2001. We were the first homeland security graduate program created in the United States, and are consistently rated in the TOP 2 of graduate-level national security programs each year. We are a "brick-and-mortar" program, as we have found that forming relationships with your current and future colleagues to be of utmost importance.

We are a program full of people inspired to serve our fellow human beings. We serve in the military, law enforcement, intelligence community, emergency management, NGO's, the corporate world, and academia. We work on issues ranging from cyber security, counter-human trafficking, child slavery, counter-narcotics, to food and water security issues. We seek not only to eliminate the bad actors who create and capitalize upon human suffering, but also the economic and security conditions that allow black market and organized crime networks to flourish. We are working hard to help create a world in which people of all nations have enough to eat, have meaningful economic opportunities, and feel safe in their homes, schools, and businesses.

The SDSU Graduate Program in Homeland Security provides a vibrant learning environment where scholarly, educational, and research endeavors are applied to real-world challenges. HSEC Faculty strive to link classroom learning with real-world service opportunities. All of our students experience an internship, work experience, or fellowship in diverse areas such as emergency response through the Red Cross Disaster Worker and Duty Officer assignments, summer work experiences in law enforcement or the intelligence community, or realize new pathways in already existing professional careers. The SDSU HSEC MS program has proudly served in response to critical incidents and crises on the local, national, and global levels. At any one time, we have over 150 active graduate students who bring diverse professional and cultural backgrounds into our learning and research processes.

The best part of our program is the body of people involved. This program is part of a vast global network which seeks to eliminate threats to human well-being and safety by not only stopping terrorist and organized crime networks, but also by working to improve the daily living conditions and opportunities of all human beings, locally, and globally. We invite you to explore our program, our process, and our people...