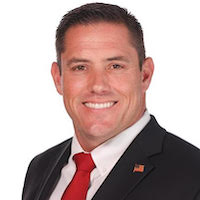 Dr. Lance Larson, Ph.D.
Lance W. Larson, PhD is the Co-Director of San Diego State University's Graduate Program in Homeland Security. An expert in cyber security and homeland security, Dr. Larson brings years of government consulting and contracting experience to his leadership and research at SDSU. In addition to his media outreach efforts to better educate the public about cyber security threats, Dr. Larson has contributed invaluable research to ongoing government projects involving such issues as cyber warfare (offensive and defensive), maritime interdiction, and emergency management.
Dr. Larson's security background is informed by his work in counterterrorism training for federal agencies, as well as his contributions to a law enforcement intelligence and Department of Homeland Security-sponsored Fusion Center Task Force focused on cyber security. Dr. Larson holds an active government security clearance and is involved in the coordination of homeland security and Department of Defense exercises for federal, state, and municipal governments.
Dr. Larson's work as a law enforcement officer for a law enforcement agency since 2001 and has aided in the fight against Internet crime as part of a team of law enforcement experts. A highly decorated law enforcement officer, he has received many awards and distinctions during his tenure in law enforcement, including medals for lifesaving, merit, and valor.
After receiving his Master of Science degree in Interdisciplinary Studies with a specialization in Homeland Security from SDSU, Dr. Larson was awarded his Ph.D. in Applied Management and Decision Science with a focus on Information System Management in 2009 from Walden University.
Dr. Larson's current areas of research include cyber security, security convergence theory, vulnerabilities of fiber-optic networks, cyber threat analysis, homeland security, network security, systems theory, and information assurance. He has authored two books on entrepreneurship, business information assurance, and physical security.
Continually striving for self-improvement, Dr. Larson is a Certified Information Systems Security Professional (CISSP), as well as a Certified Ethical Hacker (CEH) and a certified CompTIA Inet+ Subject Matter Expert, and he holds many other certifications related to homeland security and information technology.