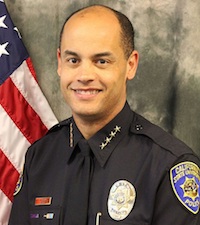 Lamine Secka, M.S.
Phone: 619-955-0715
Office Location: AD-320
Lamine Secka has been in the law enforcement profession for 24 years and served as Chief of Police at SDSU for three years. As Chief he was responsible for the deployment of resources that serve a daily population of about 50,000 people including 34,000 students. His emphasis has been on developing community-involved policing partnerships and using the latest technology to guide problem solving. The input of every employee is paramount to the successful operation of a department. He is currently the Director of Emergency Services for SDSU and is responsible for all emergency preparedness, emergency training and response operations on campus. He is the program manager for the campus CERT team and campus Safety Coordinator program.
Lamine has been at SDSU for 13 years, and with the SDSU Police Department for 11 years. He worked at the University of California, Irvine, University of California, San Diego and San Diego Police Departments. He has held almost every type of position within a police department including Community Service Officer, Records Clerk, Dispatcher and police officer. As an officer he served as an instructor, detective, SWAT team member, K-9 program manager, bike team member and public information officer. An avid runner and triathlete he regularly competes in the Baker to Vegas Challenge Cup Relay and has won gold at the United States Police and Fire games.
He has developed or led a variety of innovative, grant-funded programs including SDSU PD's K-9 program, motor officer program and Special Operations Unit.
His passion throughout his career has been the training of others. He has developed a number of training programs including a law enforcement interview preparation class and a wilderness patrol course. He has a Bachelor's Degree in Communications from UCSD, a Master's Degree in Homeland Security from SDSU and is an adjunct faculty member for the Homeland Security Program. He attended the FBI National Academy (Class 242), POST Master Instructor Development Program, has an Administration Management certification from UC Irvine, and has attended numerous FEMA emergency management training courses and certifications.
He currently serves on the Board of Directors and as an Education Sector Chief for the FBI's InfraGard infratstructure protection program and has been a member of several professional organizations including the San Diego County Chiefs and Sheriff Association, the International Association of Chiefs of Police, the International Association of Campus Law Enforcement Administrators and National Tactical Officers Association.